Effortless Travel to Philadelphia Airport with Philly Airport Shuttles
When it comes to a hassle-free journey to Philadelphia International Airport, Philly Airport Shuttles emerges as your trusted partner. With their reliable and convenient shuttle services, you can ensure a smooth transition from your location to the airport, whether you're a seasoned traveler or a first-time visitor to the City of Brotherly Love.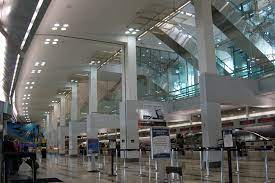 Moving Towards Philadelphia International Airport PHL
Step 1: Reservation Made Easy
The journey begins with a straightforward reservation process. Contacting Philly Airport Shuttles is a breeze – you can either visit their user-friendly website or simply make a call to their dedicated customer service line. During the reservation, provide essential details, including:
Pickup Location: Specify your starting point, whether it's your residence, a hotel, or any other location within their service area.

Date and Time: Choose the date and time of your departure. Philly Airport Shuttles offers flexible scheduling to accommodate your travel plans.

Passenger Count: Indicate the number of passengers in your group, ensuring they allocate the right-sized shuttle for your needs.

Special Requests: If you have specific requirements, such as extra luggage space, child seats, or accessibility needs, communicate these during the reservation process.
Step 2: Confirming Your Peace of Mind
As your travel date approaches, it's wise to confirm your reservation a day or two in advance. This step ensures that all your travel details are accurate and that your shuttle will be ready and waiting to transport you to the airport.
Step 3: Seamless Pickup and Loading
On the day of your travel, prepare for a stress-free experience. Pack your luggage and ensure you have all your travel documents and essentials ready.
As the scheduled pickup time approaches, be at your designated pickup location at least 15 to 30 minutes early. Philly Airport Shuttles prides itself on punctuality, and being ready ensures a smooth departure.
Upon arrival of the Philadelphia International Airport Shuttles , the driver will greet you and assist in loading your luggage into the vehicle's designated storage area, sparing you the hassle of handling heavy bags.
Step 4: The Comfortable Journey
With your luggage safely stowed, it's time to board the shuttle. Philly Airport Shuttles' vehicles are designed for comfort and equipped to handle your transportation needs.
Relax in your seat as the shuttle departs for Philadelphia International Airport. The duration of your journey will vary based on your pickup location and any traffic conditions. However, rest assured that the experienced drivers are well-versed in navigating the city's roadways efficiently.
Step 5: Arrival at PHL
Upon arrival at Philadelphia Airport, the shuttle will drop you off at the appropriate terminal or a designated drop-off point. The driver will provide any necessary instructions and assist you in unloading your luggage.
Gather all your belongings, including any checked luggage, from the shuttle before departing.
Step 6: Payment and Appreciation
Depending on Philly Airport Shuttles' payment policy, you may have already settled your fare during the reservation or need to pay the driver upon arrival. Be sure to clarify this in advance to streamline the payment process.
Tipping the driver is customary and appreciated for their excellent service. A standard tip ranges from 10% to 15% of the total fare, though you may adjust it based on your satisfaction.
Step 7: A Seamless Transition to Your Flight
With the shuttle service completed, you're now ready to embark on the next leg of your journey:
If you haven't checked in online, proceed to your airline's check-in counter.
Follow the airport signage to the security checkpoint, having your boarding pass and identification ready for inspection.
Utilizing Philly Airport Shuttles not only simplifies your travel logistics but also ensures you reach your flight on time and in comfort. Whether you're departing from the City of Philadelphia or arriving to explore its rich history and vibrant culture, trust Philly Airport Shuttles to get your journey off to a flying start.
---
With Philly Airport Shuttles, your airport transfer becomes a seamless part of your travel experience, allowing you to focus on the excitement of your journey ahead.