Philadelphia International Airport to Malvern, PA
Traveling from Philadelphia International Airport to the charming town of Malvern, Pennsylvania is like embarking on a journey from the bustling heart of the city to the tranquil embrace of suburban comfort. As you step off your flight and into the airport's well-connected transportation network,
you'll find various options for reaching Malvern, including airport shuttles, taxis, or the convenient SEPTA Regional Rail Airport Line. The approximately 30-mile journey will take you through picturesque landscapes, quaint neighborhoods, and a sense of quietude that defines the Malvern experience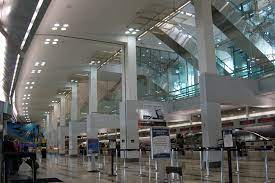 Upon your arrival, you'll discover Malvern's historic charm, thriving arts scene, and a unique blend of small-town hospitality with the conveniences of modern living, making it a perfect retreat from the urban hustle and bustle. Whether you're a traveler arriving for a delightful visit or a resident returning to the comforts of home, the trip from Philadelphia International Airport to Malvern promises a transition from the vibrant energy of the city to the serenity of this beautiful Pennsylvania enclave.
Discover the 14 Premier Air Travel Hubs Connecting Malvern, PA with the World
Malvern, PA, serves as the launchpad for countless journeys to a multitude of destinations across the tri-state area and beyond. Whether you're an individual traveler or a company in need of reliable airport transportation, here are the top 14 airports that serve as the gateways to and from this vibrant community.
Newark International Airport (EWR): Your connection to the world awaits at this major international airport.
JFK International Airport (JFK): Jet off to exotic destinations with the convenience of JFK International.
La Guardia Airport (LGA): Accessing the Big Apple and beyond is a breeze with LGA at your doorstep.
Atlantic City Airport (ACY): Start your gaming or seaside adventure from the ACY terminal.
Baltimore Washington International Airport (BWI): A hub for those looking to explore the capital region and beyond.
Dulles International Airport (IAD): Discover the world from the nation's capital via IAD.
Lehigh Valley International Airport (ABE): Your passage to numerous destinations with the charm of Lehigh Valley.
Northeast Philadelphia Airport: Explore the northeast from this convenient and accessible airport.
Wings Field: Embark on your journeys from this serene and picturesque aviation hub.
Brandywine Airport: Start your adventures with the grace and beauty of Brandywine.
Chester County Airport: A gateway to destinations near and far with local charm.
Heritage Field Airport: Heritage Field awaits to connect you to regional destinations.
Doylestown Airport: Your access point to the skies for adventures in the heart of Pennsylvania.
These airports cater to a diverse range of destinations and travel needs. From the bustling metropolitan hubs to serene local airstrips, Malvern, PA, provides the launchpad for your journey. Explore the world, conduct business, or embark on adventures with ease, all starting from this vibrant community.